Welcome to the
Troop 595 Web Site!!!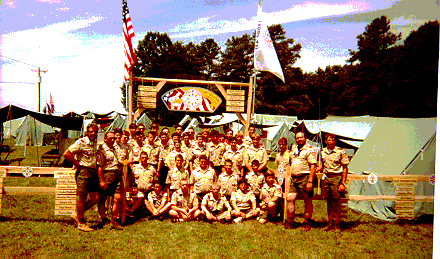 This is a photo of troop 421 at the 1997 jamboree.... At the National jamboree troop 595's members were in troop 421.
Troop 595 is located in Birdsboro, Pennsylvania. It is in the Hawk Mountain Council and also has active members in the Order of the Arrow lodge Kittatinney 5.
Map & Directions to Hawk Mountain Scout Reservation
If you would like to learn how to tie knots please go to our knots tying page!!!
If you would like to read the troop policy please click on the "policy" button.
If you want to see the upcomming activities please go to our upcomming activities page.
The leadership of troop 595 consists of the following people:
Scoutmaster: Jeff Kauffman
Senior Patrol Leader: Eddie
Michael is the troop 595 webmaster, if you would like to contact me give me a call.